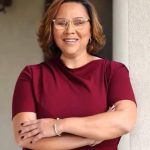 Welcome Deidre Deculus Robert of Baton Rouge, Louisiana, the 2023-24 president of the Louisiana Bar Foundation (LBF). Other officers are Vice President Hon. John C. Davidson of Alexandria; Treasurer Edmund J. Giering IV of Baton Rouge; and Secretary Michael J. Mestayer of New Orleans. The 2023-24 board was installed at the 37th Annual Fellows Gala by Chief Justice John Weimer.
President Deidre Deculus Robert
Robert is the State Director of Rural Development for Louisiana at United States Department of Agriculture (USDA). Before her appointment, Robert served as executive counsel for the Louisiana Department of Transportation and Development and general counsel for the Southern University System. She previously served in the Louisiana Attorney General's Office as deputy director of the Litigation and Public Protection Divisions. Robert obtained her B.A. from Louisiana State University and her law degree from Southern University Law Center in 2000.
Vice President Hon. John C. Davidson
Judge Davidson is a 1988 graduate of The LSU Law Center.  At LSU Law School, he was Order of the Coif and a member of Louisiana Law Review.  He began his private practice in New Orleans working in the areas of complex commercial litigation and bankruptcy.  He moved to Alexandria in 1992 and continued his private practice in the areas of commercial litigation, general defense work, personal injury and domestic law.   In November 2004, he was elected Ninth Judicial District Judge in Rapides Parish.
Treasurer Edmund J. Giering IV
Giering serves as general counsel to the Baton Rouge Area Foundation and his practice emphasizes corporate law & governance, transactions, risk management, and nonprofit & tax-exempt organizations. He was in private practice for six years and served as corporate counsel to The Powell Group for eight years prior to joining the Foundation. He received a B.A. in History from LSU in 1990, a J.D. degree from the LSU Paul M. Hebert Law Center in 1994, and a M.B.A. from the LSU E.J. Ourso College of Business in 2005.
Secretary Michael J. Mestayer
Mestayer is a solo practitioner in New Orleans, where he handles a broad range of litigation, including admiralty, product liability, and complex civil matters.  He received his B.S. from L.S.U. and his J.D. from Tulane University Law School. He is also an adjunct faculty member at Tulane School of Law where he teaches Solo and Small Firm Practice.
*New board members are Charles C. Bourque, Jr., Houma; G. Adam Cossey, Monroe; Barbara B. Melton, Alexandria; and Anthony J. Staines, Metairie.
*Other members of the 2023-24 board of directors include: Alan G. Brackett, New Orleans; Linda Law Clark, Baton Rouge; George D. Ernest, Lafayette; Hon. Cynthia Clay Guillory, Lake Charles; Christopher B. Hebert, Baton Rouge; Colleen C. Jarrot, New Orleans; New Orleans; Hon. Page McClendon, Madisonville; John Nickelson, Shreveport; Shayna L. Sonnier, Lake Charles; Adrienne D. White, Mansfield; and Zebulon M. Winstead, Alexandria. 
*as of 4/24/23
Photo caption: L-R, Mike Mestayer, Edmund Giering, Hon. John Davidson, and Deidre Delucus Robert.
View the full 2023-24 Board of Directors here