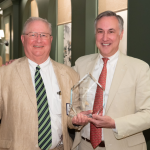 The 2023 President's Award was given to David E. Verlander III in recognition of his outstanding support, volunteer service, dedication and advancement of the mission and goals of the Louisiana Bar Foundation (LBF) from 2022-23 LBF President Alan G. Brackett during the Annual Fellows Membership Meeting on Friday, April 21.
Verlander, with the Law Offices of McLeod Verlander in Monroe, has been a LBF Fellow since 1995.  He served on the Grants Committee and has been a member of the Northeast Community Partnership Panel for many years and currently serves as chair. This year, he was instrumental in leading the effort to activate the Northeast Louisiana Bar Foundation to establish an organized pro bono project in collaboration with the 4th Judicial District Bar. Mr. Verlander is supporting the LBF mission to preserve, honor, and improve our system of justice by funding, developing or otherwise promoting efforts which enhance the legal profession, increase public understanding of the legal system, and advance the reality of equal justice under the law.
President's Award Caption-2022-23 President Alan Brackett presents the President's Award to David Verlander at the LBF Annual Meeting. Pictured L-R: David Verlander and Alan Brackett. (Photo by Patrick Niddrie)
Learn more about the President's Award here.