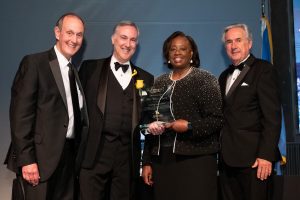 The 2023 Louisiana Bar Foundation (LBF) Horn Blower Award was given to the Louisiana Supreme Court in recognition of outstanding support and leadership in promoting the mission to advance the legal profession, increase public understanding of the legal system, and advance the reality of equal justice under the law by 2022-23 LBF President Alan G. Brackett. Chief Justice John L. Weimer, Justice Piper D. Griffin, and Justice James T. Genovese accepted the award on behalf of the court.
The award presentation was during the 37th Annual Fellows Gala at the National World War II Museum New Orleans on Friday, April 21. The gala is the LBF's largest annual fundraiser and is in honor of the 2022 honorees:
Distinguished Jurist Hon. Richard T. Haik, Sr. (Ret.), U.S. District Court, Western District of Louisiana
Distinguished Attorney Leo C. Hamilton, Breazeale, Sachse & Wilson, L.L.P.
Distinguished Professor Andrea Beauchamp Carroll, LSU Paul M. Hebert School of Law
Calogero Justice Award Hon. Ivan L. R. Lemelle, U.S. District Court – Eastern District of Louisiana
Horn Blower Award Caption-
2022-23 President Alan Brackett, presents the Horn Blower Award to the Louisiana Supreme Court at the LBF 37th Annual Gala. Pictured L-R: Chief Justice John Weimer, Alan Brackett, Justice Piper Griffin, and Justice James Genovese. (Photo by Patrick Niddrie)