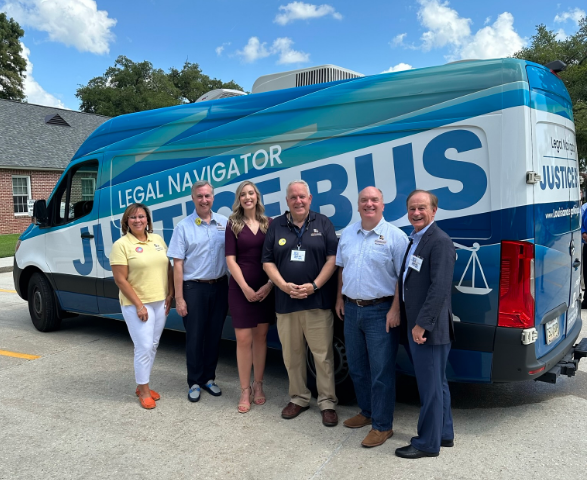 The Louisiana Bar Foundation (LBF) and the Lagniappe Law Lab (LLL) announce that their joint project, the Justice Bus, is ready to roll. The bus was purchased in September 2022, and has been retrofitted to bring civil legal services through virtual self-help tools and physical resources to the public who need them the most.
The bus will travel to civil legal resource deserts, communities that are more than a 45-minute drive away from a civil legal resource, and that have limited access to legal services, struggle deeply with poverty, and lack meaningful internet connectivity. More than 600,000 income eligible Louisianans (34%) live in these civil legal resource deserts where meaningful legal assistance is simply out of reach.
"The LBF recognizes the gaps and legal desserts that exist in accessible representation and equal justice, we are working to meet the needs of Louisiana citizens," Deidre Deculus Robert, LBF President.
The Justice Bus will be "in service" an average of two times per week doing outreach and providing access to online resources. Potential outreach locations include community locations like libraries, schools, dollar / grocery stores, and banks.
"This service will allow us to bring cutting edge technology and a wealth of legal resources to areas that have struggled to access legal services. We are thrilled to work on this project with the Louisiana Bar Foundation." Rebecca Holmes, President, Lagniappe Law Lab.
The Justice Bus is the second LBF and LLL collaboration. The first project was the Louisiana Civil Legal Navigator which improves accessibility, effectiveness, and efficiency of legal services in Louisiana by utilizing artificial intelligence. The addition of the Justice Bus will further the delivery of civil legal aid services to those most in need.
"We couldn't be more excited to further our reach in the most remote parts of the state. Over 90% of low-income Americans receive inadequate help when faced with a civil legal issue – there simply aren't enough direct legal services to meet the needs. With the Justice Bus, we'll be able to meet people where they are, connecting them with high quality legal information, self-help services, and referrals for issues that affect them most." Amanda Brown, Executive Director, Lagniappe Law Lab.
For more information about Lagniappe Law Lab and the Justice Bus, visit them here